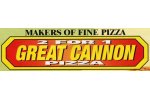 Address:
Unit 120 - 2806 Jacklin Road

Description:
Makers of fine pizza! Thin and whole wheat crust available. Interac on delivery by request. 10% discount on pick up orders. Pizza tonight?
Hours:
11:00 am - midnight
Delivery Hours:
3:30 pm - midnight
Closed:
2:00 pm - 3:00 pm
Restrictions:
Free delivery within 5km $3 charge if over 5km but not over 10km.